"starting from square one. again."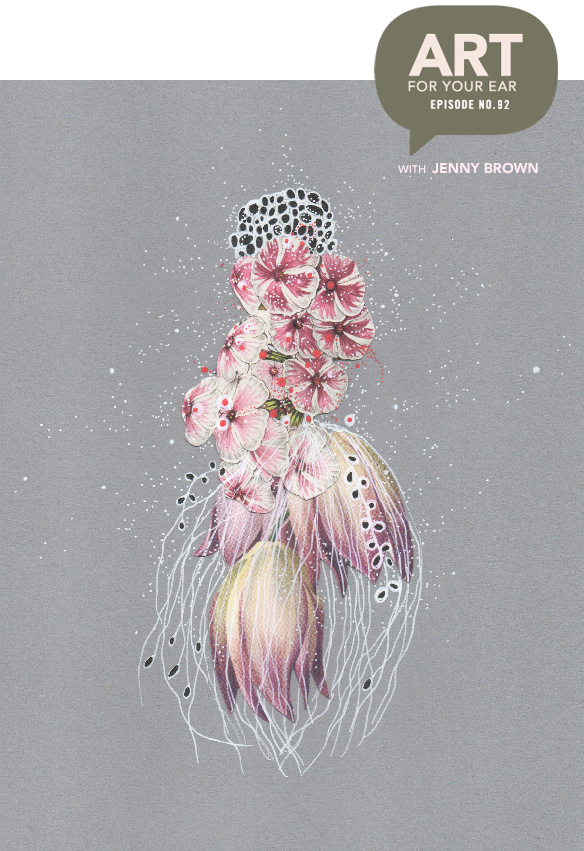 Today is about starting from square one, AFTER you've done all of the things you were supposed to do to get the life you wanted. It's also about jellyfish alien creatures. Yes, Rhode Island based collage artist Jenny Brown in my guest today. She wrote a really heartfelt story on Facebook the other day, and I just had to get the inside scoop.  You can listen under that flowering jellyfish, or you can subscribe on iTunes.
Let's begin with a few of her recent pieces that I'm currently obsessing over:
I would happily swim with these elegant creatures. Look at those thin beautiful lines, those perfectly cut bits 'n pieces. LOVE.
And now, stepping back in time. A dark time. These were the large, very black, incredibly dense (and sad) pieces that Jenny transitioned to during her MFA:

So different than her now very effervescent work. But, she pushed through and found the light again. Here are the first few pieces as Jenny began finding her way back to her "creatures":
Ah, that's more like it. Although those charcoal pieces were beautiful in their own right, these are just Jenny… and she knew it.
I asked about the kind of paper she uses for her lovely colorful backgrounds, which seems like a perfect excuse for me to show a few more of my favorite "Jenny Brown" collages:

Yep, love them all… So. Much. Color! I'm totally going to give pink card stock a shot. Beautiful.
Ok, so I found these WIP shots on Jenny's gorgeous Instagram feed. Clearly, she's a woman after my own heart:

Gasp! Seriously, I need my scissors RIGHT NOW. Look at that cut-image covered table! Call me a collage nerd if you must, but my heart is racing.
What else makes my heart race? Sugar! The only thing I regret about this episode was not asking Jenny about her deep passion for donuts. All of these sweet gems are also from her Instagram feed. I want ALL OF THEM: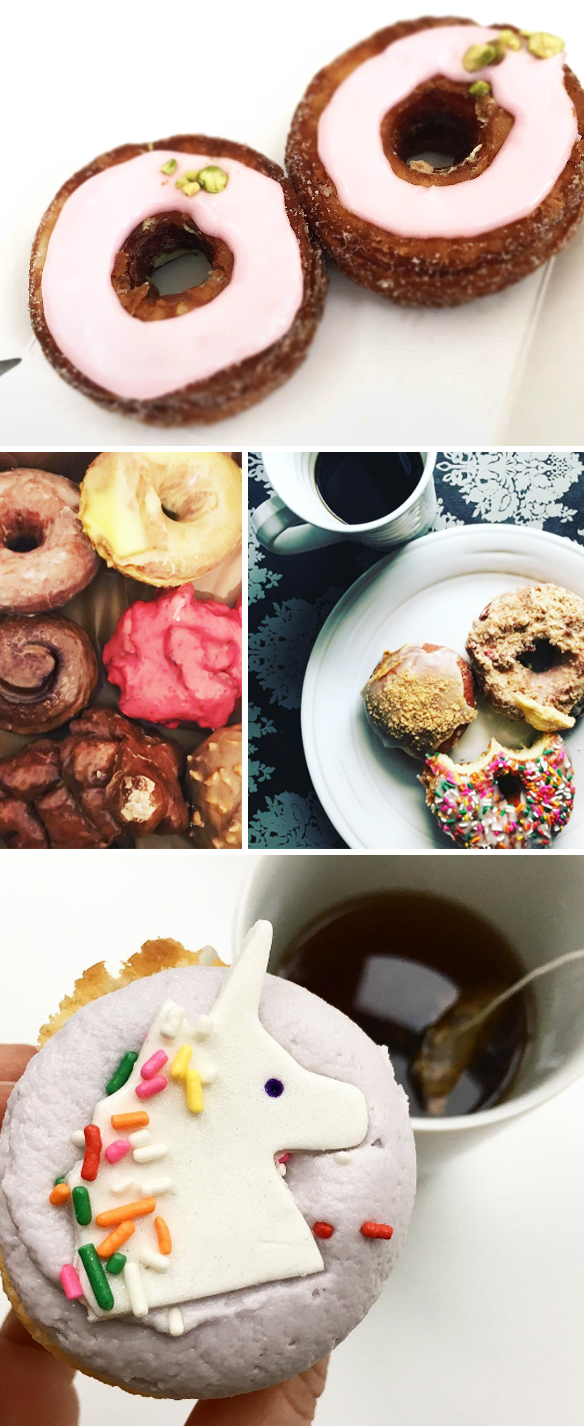 Unicorn donut! ♥ ♥ ♥ ♥
And finally… Jenny, her cat Max, and Jenny's perfect (apparently high maintenance) red lipstick:
Perfection. Max must've been too tired to put lipstick on for this shot. Thank you so much to Jenny for sharing her story of full-circles, loops, and starting over… so inspiring. Thanks to Saatchi Art for supporting another episode, and thanks to YOU for listening! There will be more art for your ear next weekend.
Other links:
ps. Oops, I forgot to mention this! The sign-up page for the course I'll be part of in VENICE is ready! Yes, two weeks this August during the Venice Biennale!?! I'll be teaching a few classes and workshops from August 7 – 20th via the European Cultural Center's Academy, alongside several other instructors, curators, etc. Tours of galleries, meeting with curators, art making, passes to the biennale, AND gelato? There are only 20 spots for the weeks I'm going to be there, so if you were thinking about it, pop over there asap. Hope to see you in Italy… ciao!