fancy schmancy gallery : "west"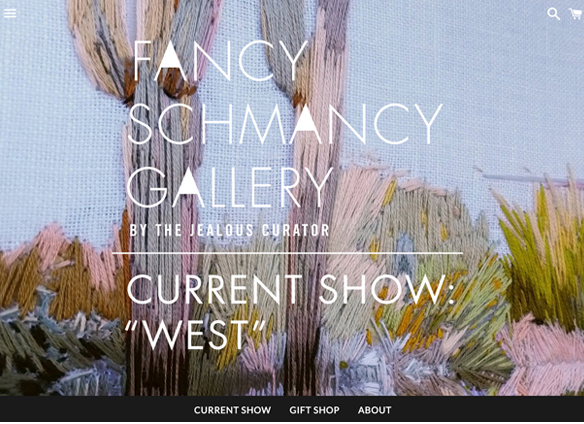 I'm not very good at keeping secrets (at all) but somehow I managed to keep this one under my hat for the last six months. You guys, I opened a gallery… a Fancy Schmancy Gallery. Here's the gist:
MAKING EXCLUSIVE ARTWORK ACCESSIBLE, ONE FANCY SCHMANCY SHOW AT A TIME

Fancy Schmancy Gallery is open all day, every day. No appointments necessary. No need to find parking. Whether you live in a huge city or a tiny town you can "wander" through Fancy Schmancy whenever you like. Every two months there will be a new show, filled with original artwork that was created specifically for that show, and available nowhere else… fancy, right?
Gah – so exciting! I decided to do this with hopes of making unique, original art accessible to everyone everywhere. Ok, I also just wanted an excuse to give assignments to my favorite artists to see what they'd make!
Well, the first show, titled "WEST", goes up TODAY!  This whole online, podcast-filled, social media-saturated, no real rules world feels like "the wild west" to me, so it seemed like a perfect way to start this new adventure. I gave six amazing artists this brief… west… and they took it from there! Take a tiny peek:

Oh, I love it so much! Pop over to Fancy Schmancy to see the full show… happy art collecting (ps. all of these are originals created specifically for this show, so if you like something, buy it before it's SOLD.)