speaking / events
A BIG IMPORTANT ART BOOK – Now With Women
{2018 BOOK TOUR}
Thank you so much to everyone who came out for these events in 2018! I will be on tour again in the Fall of 2020 to share my very first KIDS' BOOK! Storytime, anyone? Yes, yes, yes!
OCT 20 | san francisco, hashimoto contemporary / 2pm
OCT 27 | los angeles, skylight books / 5pm
NOV 7 | hamilton on, art gallery of hamilton / 7pm
NOV 8 | toronto, mayberry fine art / 6pm
NOV 17 | scottsdale, smoca / 3pm
NOV 18 | vancouver, fine art framing (parker st.) / 7pm
DEC 13 | aspen, show opening skye gallery / 5pm – 7pm
MAR 8 | minneapolis, MIA / 6:30pm
MAR 15 | dallas, dallas museum of art / 7pm
Done and done!
…………………………………………………………………………………………………………………………………………………………………………
Rude, but true.
I've had the great pleasure of speaking to many groups of amazing people – from high school students to the coffee-fueled crowd at Creative Mornings to the creative geniuses at PIXAR. I've given keynote addresses at conferences like Alt Summit, done Q&A's, spoken on panels, taught workshops, signed a lot of books, and various combinations of all of the above. I truly could (and have) talked about finding inspiration, getting through blocks, and squashing self-doubt, until the wee hours of the morning.
I love sharing everything I've learned, and passing on the aha moments that I've experienced in the last few years… but I have to admit, what interests me most are the discussions that happen after I stop talking. The me-too stories I'm told after every single event – some funny, some heartbreaking – are the most amazing gifts I've ever been given. Those stories, which have often been kept quiet for years, are what connect us, and remind us that none of us are alone in this great big creative journey called life. After each event I grab the closest notebook, scribble down those me-too stories, and incorporate them into the next talk as absolute proof that we're all in this together.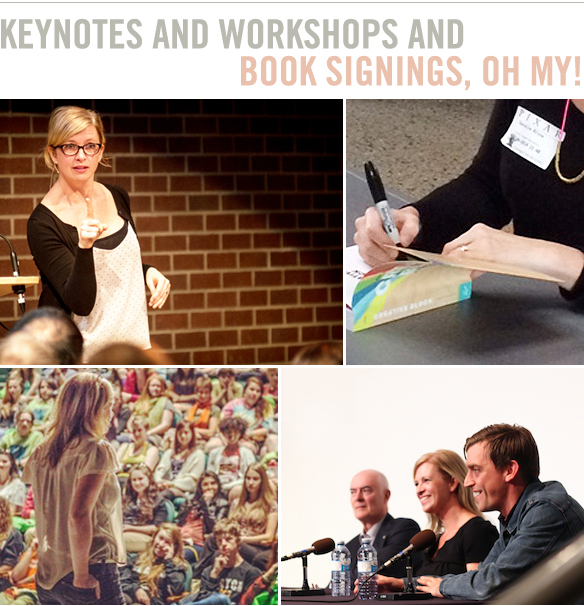 To book Danielle for speaking engagements, workshops and book signings, please email:
*request a PDF of speaking packages and we'll send it along in our reply