"warm guns 'n bloated flags"
Well, this could not be more timely. I am so thrilled to have Kentucky-born, Brooklyn-based artist Natalie Baxter on the podcast this week. Her work is beautiful, smart, and yes, very timely. This was such an interesting conversation, with a very clever woman, who's using her art to make people think. Granted, according to her comments section, people think all sorts of things about her work. Perfect – that's the point of this whole art thing, right? You can listen right up there under that knotted/bloated flag, titled "AMERICA, CURRENT MOOD", or you can subscribe on iTunes.
First up, Natalie surrounded by hundreds of plush guns in her Brooklyn apartment, followed by a few of my favorite pieces from her "WARM GUN" series:
Oh my word, I could not love them more! And in case you haven't listened yet, the story behind all of her work is just so interesting. Almost a happy, obsessive accident thanks to her creative curiosity and growing up with a grandmother who knew quilting inside and out.
Alright, from a bunch of cozy guns, to "BLOATED FLAGS". I love this series so, so, so much:
Gah! So good! And yes, that completely gold/tassel-covered flag is titled, "PEOPLE WILL THINK YOU'RE MAKING A TRUMP FLAG". Again, the story behind that title is, in fact, gold!
Alright, from Trump flags to slightly droopy "artillery":
Yep. The gun-lovers weren't huge fans of these pieces (and, spoiler alert, may have been the ones leaving terrible, nasty comments on Natalie's social channels.) Sigh.
And finally, during the not-so-speedy speed round, I asked Natalie if she could only choose one to work with from now on – would it be tassels or gold fabric: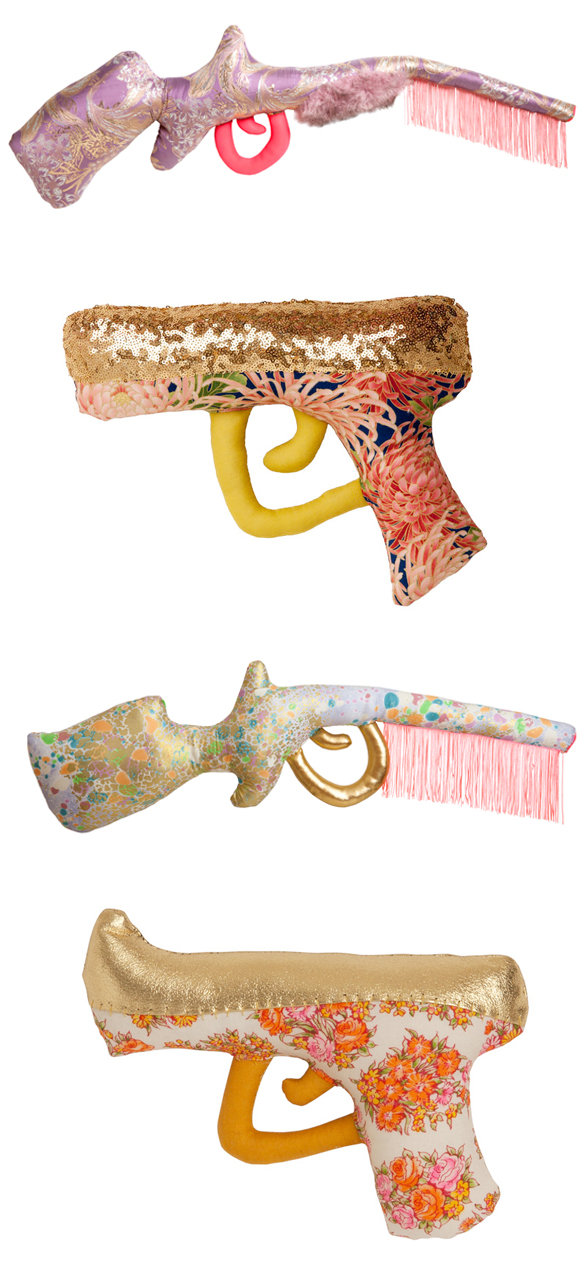 She chose tassels… see, I told you she was smart. Thank you so much to Natalie for not only taking the time to talk to me, but for making this wonderful work. I can't wait to see what comes out of the residency she's doing right now. Thanks to Saatchi Art for supporting this 85th episode; and as always, big high five's to you for listening! There will be more art for your ear next weekend.
Other links: