anna barlow
Oh. My. Word. This ceramic sculpture – yes, I said CERAMIC – is titled "C'est ne pas de la tarte", and is the latest work of UK based artist Anna Barlow. I wrote about her drippy ceramic ice cream cones five years ago, but as you can see, things have gotten a little more decadent. Here are Anna's words about this bowl full of indulgent goodness:
"This piece was made especially for the Bernaudaud Foundation in Limoges for an exhibition called "Miam!" It was a chance to look at 19th century Limoges porcelain and consider the change in the culture of eating dessert.

I feel that confections today are a testament to how international food culture has become, with takaki cones, matcha flavours and Pocky sticks from Japan; bubble cones and super- size portions from USA; macaroons from France and the English cupcakes and roses.

I believe there is a macho, relaxed "more is more" trend in eating at the moment – very different from the elaborate, formal dining of the 19th century where only the well-off could partake. By filling a Limoges style bowl with a collection of contemporary confections, I hope to create a conversation between the past and present, cracks appear in the elaborate bowl from the weight of the dominating contents, which is, although tempting; large, chaotic and grotesque."
Chaotic and grotesque, yes, but I'm not gonna lie… I kinda want to lick it. Also, follow her on Instagram, because THIS: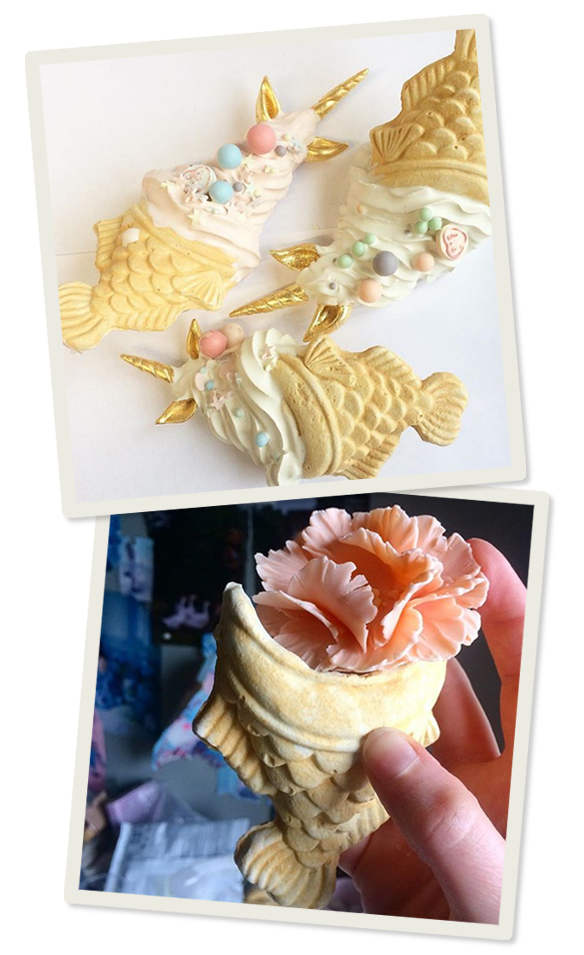 Ceramic fish tail waffle cones. Mic drop.