"storytime with esther pearl watson"
Yes, that's THE Esther Pearl Watson – and her trusty sidekick, Gherkin – out in the middle of the California desert. Esther is a Los Angeles based artist and she also teachers at ArtCenter in Pasadena. I like to think of her as a modern day Grandma Moses… if Grandma Moses painted narrative scenes of a slightly dysfunctional childhood in rural Texas. I loved Esther's "memory paintings" years before I ever met her… let's face it, she had me at "pink UFO". So, Esther once told me that she reads strange stories from art history to her students while they're painting, so I asked her to bring those stories over here! Yes, it's officially "Storytime with Esther Pearl Watson"… psst… there are a lot of stories that involve pee, so consider yourself warned! You can listen right up there under Esther and Gherky, or subscribe on iTunes.
First up, a few of Esther's paintings, complete with titles that definitely tell a story:
I love everything Esther does, and how she does it – finding humor in some not funny situations. So vulnerable, and so empowering.
So, let's have a look at Grandma Moses. She painted "the good old days", unlike Esther's "dysfunctional days":

See, all she needs is a UFO in the sky, and BAM, she and Esther could be art twins.
Alright, onto Esther's stories! First up, tyrian purple:
Liz gets it. Purple from head-to-toe in every scene as Cleopatra. Ah, soooo many snails, so much pee. If you haven't listened to the episode yet, that should make you curious!
Next up, van Gogh's vibrant, and kinda random, color choices … thanks to Julien, the paint salesman:
Ta-dah, the white roses that started out as pink roses! Oh Julien, make sure your products stand up over time, dude.
And of course, Paul Cezanne's "grotesque" bathers, butt cracks and all:
Apparently he didn't work from models, but I wonder if he just needed some good glasses. Ah, we'll never know.
And finally, I had to include this awesome photo of Esther WAY above the Los Angeles skyline. I assume she's waiting for the mothership to beam her up: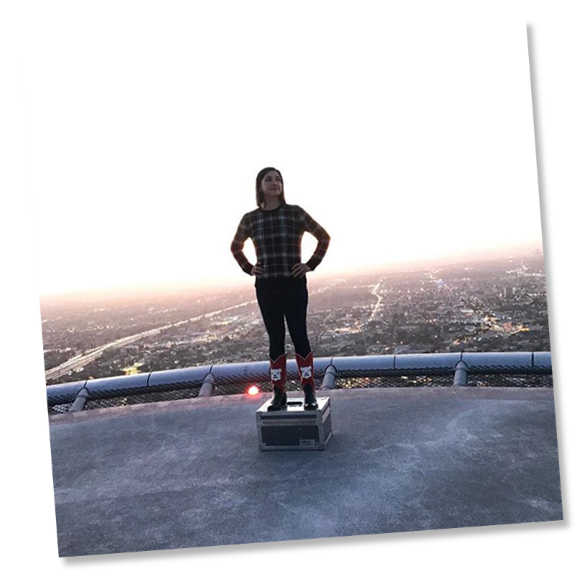 And that's that. Now, at the end of the episode, I said I wouldn't be back until January, but I think I'll pop in with a bonus mid-holiday episode between Christmas and New Year's Eve… just in case your family is driving you crazy and you need a little escape to the studio! Thanks so much to Esther for digging up these amazing stories for us, thanks to THRIVE for supporting yet another episode, and huge thanks to you for listening! ~ Danielle
Other links: