"silver linings and canned peaches"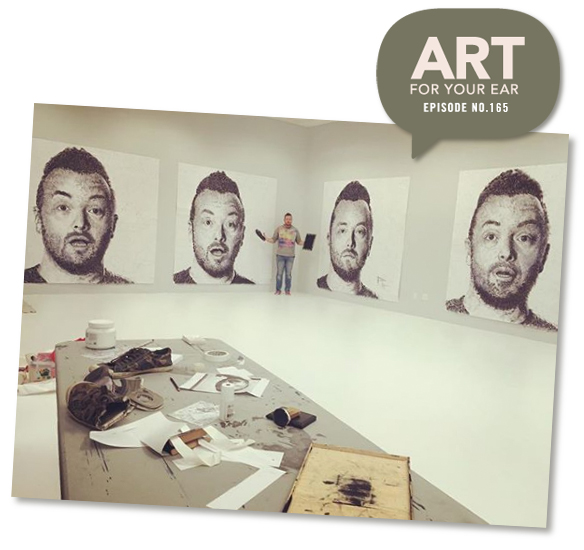 I am so excited for you to listen to this episode! American artist Phil Hansen is my guest today, and we're going 'old school' with this one. Was he an art kid? Did he go to art school? How did he end up doing an absolutely inspiring TED Talk? Did he really make a portrait of Edgar Allan Poe out of earthworms? Is he seriously going to rip up one of his pieces and give the chunks to some of you!? Let's find out! Listen right up there under Phil and all of the portraits of Phil, or subscribe here.
First things first, a few grabs from his fabulous TED Talk:
"Embrace the Shake" … such an inspiring story and message! To watch it in full, click right here.
Alright, next. Grabs from his project titled, "Just Peachy", ie., Trump made from canned peaches, because, impeachment:
Apparently the whole thing turned to mold and required an air purifier for the room it was in, along with having it closed off from the rest of the building. Sounds about right.
Okay, moving on. Edgar Allan Poe's portrait made from 7000 WORMS!?
Ew. But also, WOW. That's dedication. *All worms were returned to the earth.
Ahhh, happy little stamps:
So, if you've already listened to the episode, you'll know what this is about: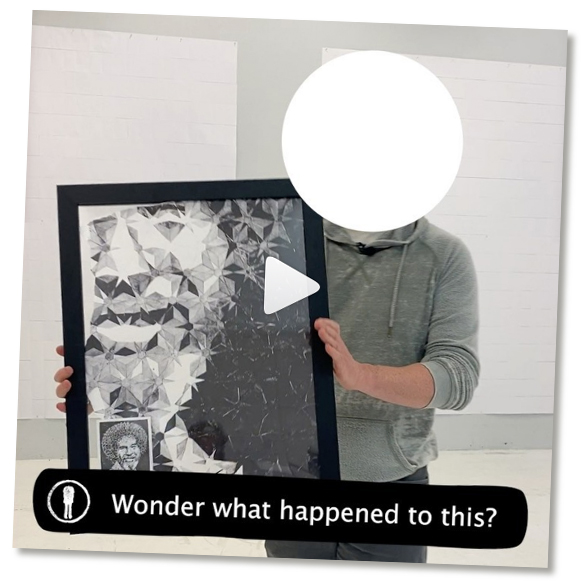 Yep! Get over to Phil's instagram feed, @philinthecircle if you want a chance to win one of four framed pieces of this "destroyed" portrait … good luck!
Speaking of Bob, here's the info for the event I'm doing at my local gallery that also happens to have a Bob Ross show opening in March!
Gah! I cannot wait to see a few Bob's happy little landscapes in person! Also, how much do I love that my photo is next to Bob's on an event calendar?! Okay, and with that I will say a huge thank you to Phil for "philling" in the circle for us, thanks to YOU for listening, and thanks to my family for letting me sneak away on our Hawaiian vacation to get this podcast up! There will be more ART FOR YOUR EAR next weekend. See you then!
Other links:
Phil's TED talk, "Embrace the Shake"