"people love tush"
Oh, you guys. This is such a lovely episode. If you don't already know about New York based artist Elisa Valenti, I'm so excited to introduce you! If you do know her work, I'm still excited because I bet you don't know that she's a pharmacist, bakes ridiculous kick-ass cakes, and is irrationally afraid of sharks. Yep, we cover all of that AND we talk about her journey as an artist too. Wait till you hear her laugh, and the way she says COFFEE and TUSH. Pure gold. You can listen right up there under "Every Last Drop", or you can subscribe here.
First up, the painting you might know her for… it's definitely the first one I saw:
Hell, yes! "Confidence on the Rocks"… and the source photo from her phone. Gorgeous, both of them.
Next, here she is at Superfine 2019. Can you believe she pulled this booth together in two weeks? :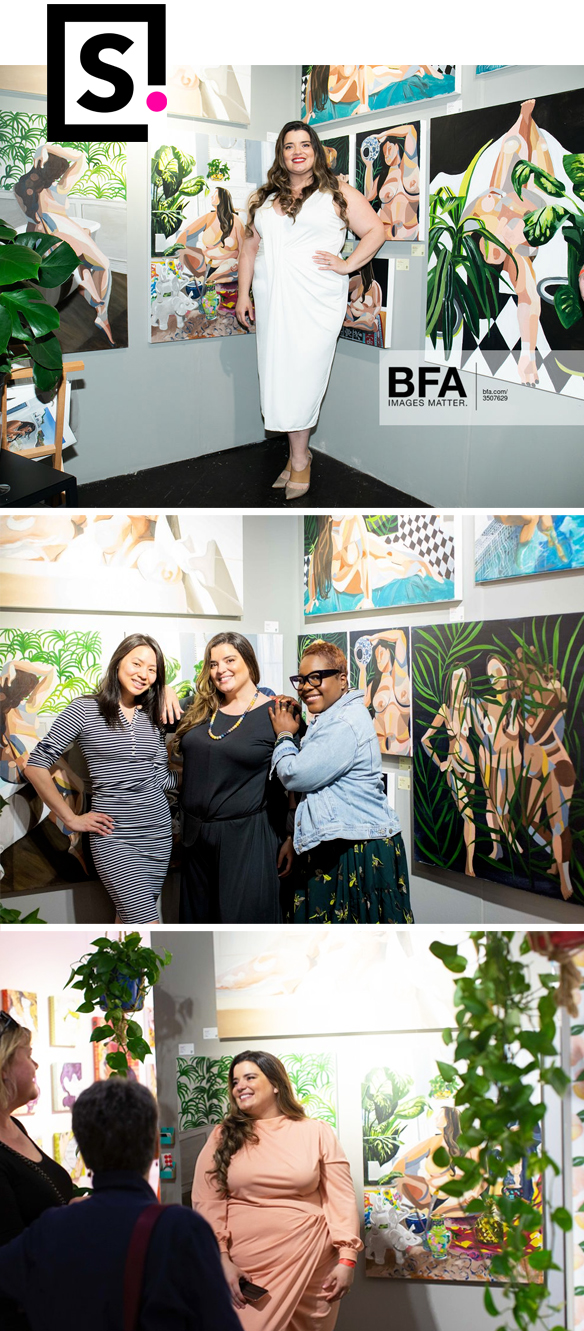 And that, my friends, was the beginning of the whirlwind that has been her past year and half!
Next, these two paintings are the reason I asked her about "baths or showers" in the Not-So-Speedy-Speed-Round. I really just wanted an excuse to show you "Pizza Girl" and "Solitude":
Beautiful.
Oooh, and these are the line and contour pieces she mentioned:
Yep. People love tush… and you can see why!
We just talked about this quickly in passing, re: the transition from painting herself clothed, to blocked, to nude. This is step one. The nightie:
Isn't that gorgeous? That piece above is one of my favorites. I absolutely love the sheerness of  the fabric, the embroidered flowers, the sunlight, all of it.
Elisa and I also talked a little bit about her color palette, and how she likes to include all sorts of skin tones. Here are a few inspiration shots she's posted to her Instagram feed:
COFFEE! I could listen to her say 'coffee' forever and ever. Also, I want those donuts. Speaking of sweet treats, Elisa's cakes.
Brace yourself:

WHAT THE ACTUAL Whaaaaa? "Oh yeah, I used to make cakes for my family." LOOK AT THAT THING!? Okay, I have to move on, even though that cake deserves an episode all to itself.
Finally, here are a bunch of shots of Elisa in action:

Awww, little Elisa with colored pencils firmly in her tiny hands. Ah-mazing. Thank you so much to Elisa for doing this with me, given the week she's been having. She just told me she's going to name her inner critic, "Pluto". Good plan! And, of course, thank YOU for listening. I hope your week has been okay. Stay inside, stay well. There will be more ART FOR YOUR EAR next weekend.
ps. Esther Pearl Watson and I will be doing some LIVE painting/collaging on Instagram next week. Tuesday, April 28th at 6pm PST is the plan! 
Other links: