"water, light, and infinite galaxies"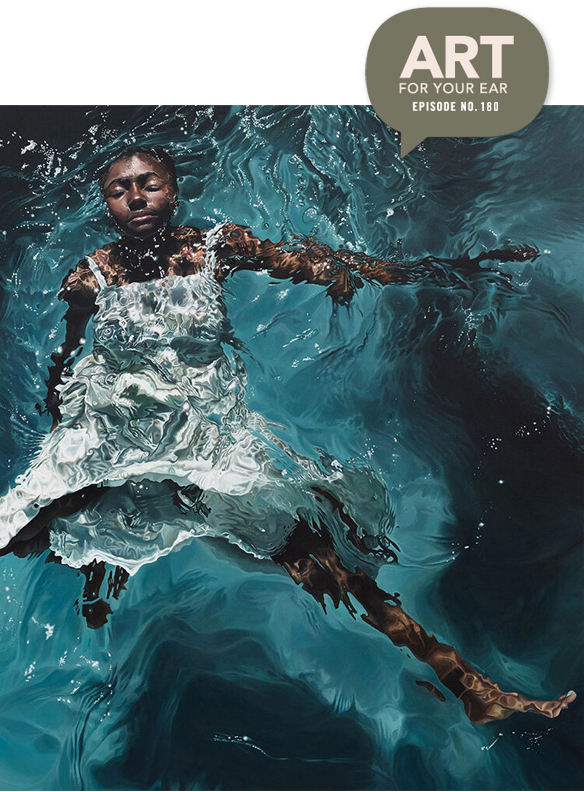 Oh my goodness, this episode. So, this weekend was supposed to be the last episode of the season featuring my interview with artist and writer Mimi Pond, but given the events of the past week I recorded one extra episode. Mimi will be up next weekend, but today I'm talking to LA based artist Calida Rawles. Honestly when I first saw her work, I thought 'Wow, these photographs are stunning'. Turns out, they're paintings. Beautiful, powerful, almost poetic, hyperreal, figurative acrylic paintings. I found her a few weeks ago in Amy Sherald's Instagram feed, because crazy small world… they went to art school together! Anyway, we're going to get into all of that, and a whole lot more. Listen right up there under "Radiating My Sovereignty", or subscribe right here.
Okay, but wait! Before we go too far, go back up and look at that first painting. Do you see the two stars at the tip of her finger? Yes, the first hidden gem of many! Alright, now we can keep going. Here are the images I posted when I wrote about Calida earlier this week:
I mean, seriously. I just can't believe how beautiful these are. Abstraction and realism living in perfect harmony.
Next, this is "In the Light (For Stephon Clark)" 2018, 48″ x 72″:
This is such a powerful piece, and even more so after hearing Calida tell the story behind it. I included the closest closeup I could find… do you see the galaxies? Beautiful, heartbreaking, and so powerful. I am so glad Calida shared all of the hidden bits of beauty to look for in her paintings. I was already emotionally invested, but those secrets took things to a whole new level.
Next, here are paintings that began her love affair with water. Vulnerable? Um, yes:

"Chrysalis", "Converge", "Blow It Out", and "Holding It In – Pressure". Wow. Brave, and so beautiful.
Next, more water. Here are the paintings Calida did for her longtime friend, and author, Ta-Nahisi Coates' first fiction novel, "The Water Dancer":
Oh and look at that… there's Oprah reading it. Yes, Ta-Nehisi's book was Oprah's 2019 pick for her book club… and there are Calida's paintings on the front and back of it. Ah-mazing.
And finally, I had to include photos of her working, especially now that I can picture her up on that scaffolding listening to audio books for twelve hours at a time:
Gasp! Stunning… the paintings and Calida herself.
Saying 'thank you' doesn't seem like enough. This conversation meant so much to me, especially right now. I pray that June 2020 will go down in history as an epic moment of change. I told Calida at the end of the episode that I almost cried a couple of times, and to be totally honest, I did cry after we said goodbye. I felt so inspired by her work/process, enlightened by her insights, and embarrassed by how much more I still have to learn. But I will. There will be more ART FOR YOUR EAR next weekend.
Other links: