"don't lose the joy"
Leopard print pants and a Garfield t-shirt? How can you not want to be friends with Anthony Sonnenberg  … that's what I imagine he's saying in this photo. I'm so excited to have Anthony on the podcast today because I've been following him on Instagram for years, but we've never spoken until today. I was feeling a little shy, but with photos like the one above all over his feed, I was pretty sure he'd be a friggin' delight… and I was right! Listen right up there under Anthony enjoying the great outdoors, or subscribe on Apple Podcasts and/or Spotify.
I wasn't sure where to start because Anthony does so many amazing things, but let's go with his ceramic sculpture:

So gorgeous! The final sculpture above is from quite a few years ago, but I'm almost 100% sure it was the piece that made me click FOLLOW on Instagram. Looooove.
Oh boy, and speaking of love… ANTHONY'S JEWELRY:
Whoa. So big, so ornate, so everything. I can't wait to see where he goes with this work… it's going to be ridiculously good.
Now, I chose to start this post with a photo of Anthony enjoying the fresh mountain air, but I could have easily gone with one of these:

Yep, you want to be friends with him… I know, me too. See? I told you he makes and does zillions of things, and all of them are fabulous!
And finally, this. Here's the painting of Anthony by UK based artist Sarah Ball, and the photographic inspiration: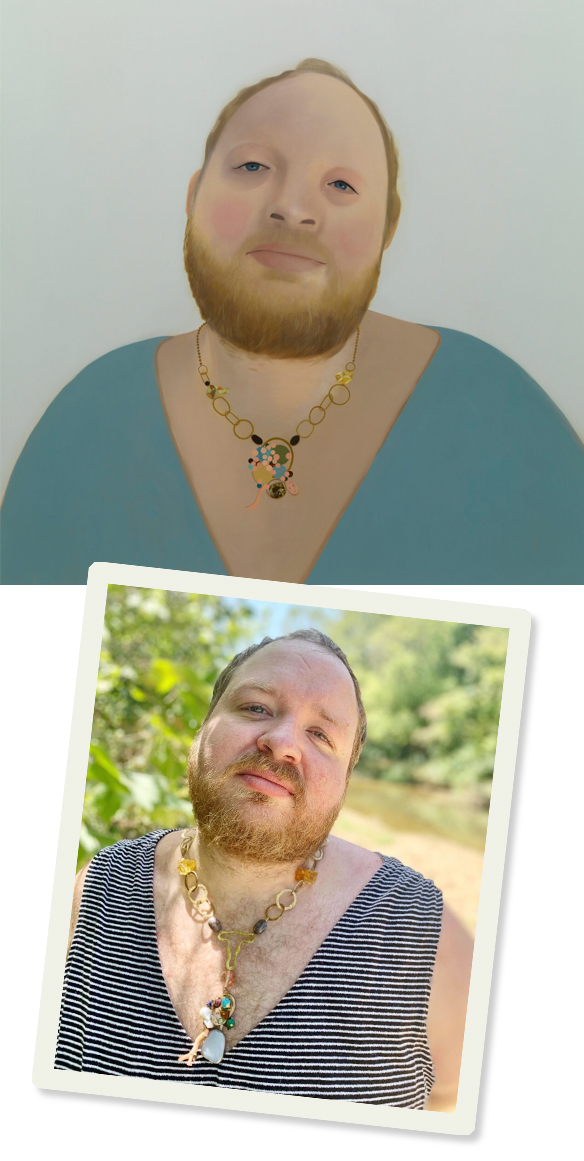 Isn't that lovely? Sigh. So good. Thank you so much to Anthony for recording his first ever podcast interview with me… and for not pursuing his career as a "sandwich artist"!  As always, huge thanks to you for listening to yet another episode of ART FOR YOUR EAR… there'll be a brand new episode next weekend.
Other links: