"not enough hours in the day"
Maps, cut into perfect little leaf shapes and attached to the wall with tiny red pins. What?! Yeah. Today I'm talking to American artist Shannon Rankin all about maps, vellum, more maps, constantly pushing yourself, and pizza… in that order. Shannon's currently at a residency in Roswell, New Mexico, so that's where I called. You can listen right up there, under that gorgeous installation,  or you can subscribe on iTunes.
As always, let's start with a few of my favorite pieces from Shannon's beautiful portfolio:
Now THAT is some insane precision. So gorgeous.
Next, we were talking about Justin Richel… Shannon's long time partner, and amazing artist. I've written about Justin before, and both he and Shannon are in my first book, "Creative Block". Justin's with Shannon in Roswell at the moment, experimenting with sculpture! Cannot wait to see that: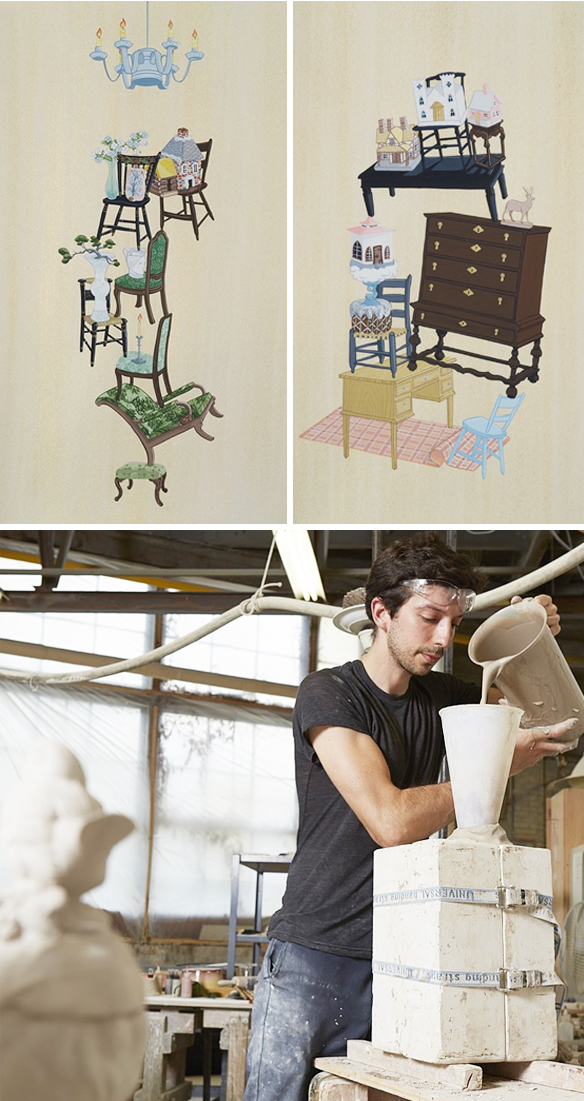 Couples that make art together, stay together! ♥
Alright, and now the craziness that is Shannon's installation work. This first piece is "Germinate (5000 seeds)". Yep, thousands of tiny pins and map dots make up this 12′ beauty:
And of course, I had to include a close up of "Matrix" from the first image in the post. I also had to include that shot in the gallery for scale. Cra. Zy.
Up next, her latest work! These are the pieces she's been working on in New Mexico:
Embroidery, and paper, and maps, oh my!
Ok, who knows "Selflesh" on Etsy? Yep, that's Shannon's alias. I loooove these simpler, smaller works too. And yes, more maps:
Sigh. Right?!
The reason this episode is titled "not enough hours in the day" is because of the diverse, insane amount of work Shannon does. This leads me to her vellum work. If you couldn't tell on the podcast, I LOVE THESE:
That's mine! And there it is hanging in the GoCA (Guest-room of Contemporary Art)… ps. there's an original by Justin just to the upper right of Shannon's work. Both very coveted pieces in my GoCA collection. But wait, there are new ones that are black and white!
Swoooooon  ♥  You can buy her vellum pieces in this lovely shop.
Now, if you're wondering where Shannon was during this chat, wonder no more! This is a peek into the Roswell Artist-in-Residence Program:
And there's Shannon in her Roswell studio. Enjoy every moment of the next four months, Shannon! There is one more "Art For Your Ear" left in 2016, and it will go up next weekend. See you then!
Other links:
Saatchi Art Sweepstakes Info:  Ready to #stART2017right with new art? Saatchi Art is gifting one original artwork from this collection to a lucky winner every day for five days, Monday December 19th through Friday December 23rd. Follow @saatchiart on Instagram and share your favorite artwork from this featured collection with hashtags #stART2017right #sweeps for a chance to win. Good luck!