"hey, mama"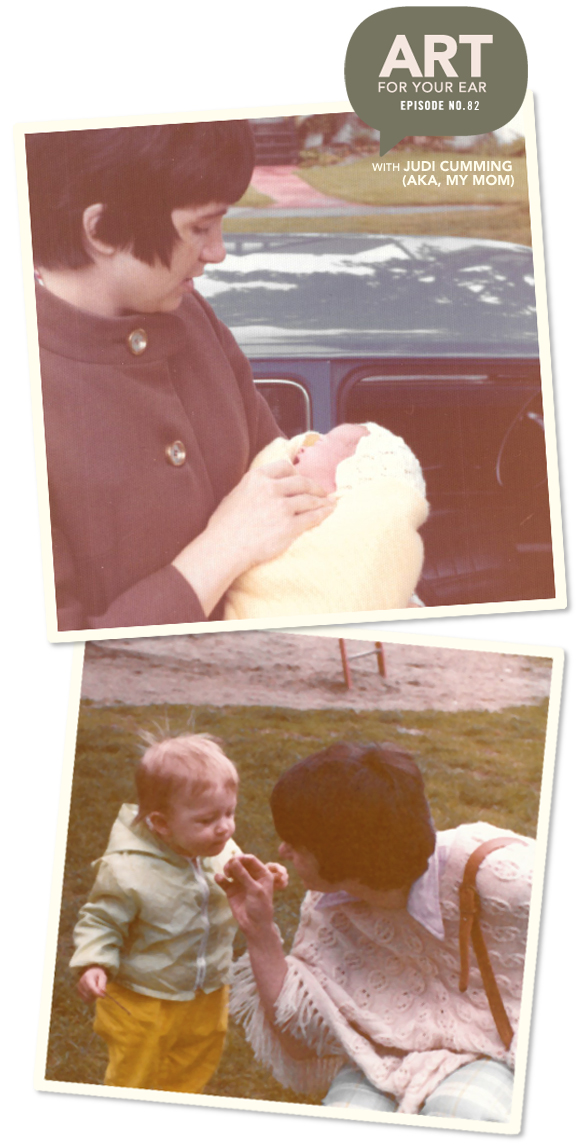 Aw! Those are two of my favorite photos with my mom. I've talked about her a lot on the podcast… she's an artist and some of my earliest memories are of her painting at the table, getting ready for shows, and of course, letting me use all of her materials! Today, on Christmas Eve, I'm talking to Judi Cumming, aka my mom. I feel like a bad daughter because I didn't know a lot of these stories (self-absorbed teenager), but all of that changes today. You can listen right up there under that dandelion/poncho shot, or you can subscribe on iTunes.
First up, her show at "Delphine's" in Vancouver when I was just a teeny tiny baby:
Love it! That's the front window of the gallery circa 1974-ish.
From there, our little family was off to live on the other coast… from the Fraser Valley to the Annapolis Valley in Nova Scotia. There were a lot of apple blossoms in her work at that time. The only one I could find was from this set of notecards she used to sell. I've had this in my stash for years, and didn't realize until taking this photo the other day that there was a little surprise inside:
A little note from me to my grandmother, Blanche (my mom's mom). I'm pretty sure that's a chicken head. Why? I have absolutely no idea.
This is the photo I mentioned… my mom hanging her "Life Beyond Death" show. I was probably a tween or young teenager at the time and I remember thinking what a cool mom I had. Granted, I think my dad caught her off guard in this shot, but still, very cool:
Beautiful. That's one of the pieces from the show. It's truly crazy to me that she thinks watercolor is "easy". ?!
Anywho, I forgot to bring up this story, but I should have. About a year ago I was visiting a friend, who happens to live next door to an old friend of my parents. I hadn't seen this woman in decades, so we popped in to say hello… and what was the first thing I saw on her wall. One of my mom's paintings from the 1980's! Here it is:
I love those little birds. I've always been in awe of the way my mom paints branches… a skill that was not passed down in the DNA.
Up next,  a piece from the "In Tandem" series that she did with her friend, artist/calligrapher Susan Nelson. This is the one that I own:
Ah, so dreamy. I love that we have it in our home.
Next, we talked about her foray into acrylics. Let's just say acrylics are not her medium, but I love that she is never afraid to experiment! Needless to say, I begged her to go back to those "easy" watercolors, being sure to explain that not everyone finds them easy – she just happens to be really good! Guess what? She listened to her kid! Here is one of her more recent works, and a shot of her in action at an outdoor art show:
My mama in the sunshine! Thank you so much to my mom for being completely up for this… I'm so happy we finally had this very long overdue, artsy conversation (and thanks to my Dad for rounding up a lot of these photos!); thanks to Saatchi Art for supporting this episode; thanks to audible.com for making my new book into an audio book! To pick it up (or any other book over there for that matter) just use my link: audibletrial.com/JealousCurator. And as always, thank YOU for listening.
Have a happy, safe, fun-filled holiday! I'll be back with new posts the first week of January (and a new podcast episode on Jan 7th). I'm going to make lots of art, drink coffee by the fire, play in the snow, and most likely eat my weight in chips. I encourage you to do the same! See you in 2017 ~ Danielle xo