"everything shiny"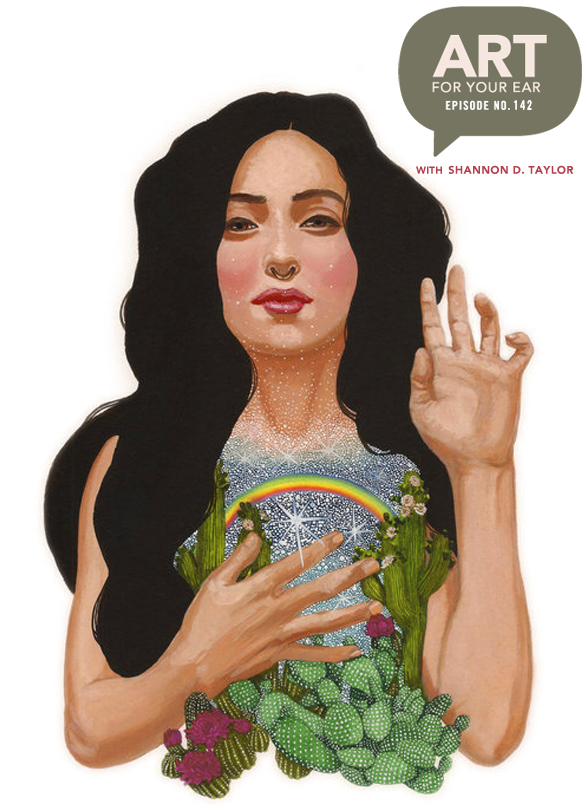 Sparkly stars, rainbows, mermaids, and a land full o' fairies! Today I'm talking to California based artist, teacher, and restorer of all things magical … well, at Children's Fairyland in Oakland, anyway! Shannon D. Taylor is a very busy woman, but that doesn't stop her from adding a little bit of magic to pretty much everything she does. Listen right up there under "Southern Star", or subscribe on iTunes.
Alright, first things first, a few of Shannon's pieces that I've written about before:

See? Too good not to show again!
Next … ping pong paddles and saws, because when you do an art residency in a giant warehouse filled with thrifted goods, this is the kind of thing that can happen:

Oh, those tigers. And do you see what I mean about her sparkly starry skies? So dreamy!
Now not only is Shannon a talented painter, she's also REALLY good at finding vintage frames to house her gorgeous work. Look at this:

Gasp! They're all so fabulous, each one filled to the brim with Shannon's weird & wonderful worlds. Also, I really need to go thrift shopping with her. A lot.
So, when Shannon isn't making her own work, she's teaching at the California College of the Arts … and I desperately want to be in her six hour sketchbook class! Here is a tiny peek into her sketchbook:
Ha! And a lovely self-portrait too! You is beautiful, Shannon.
Alright … and when she's not making her own work, or teaching, she's restoring the magical bits and pieces at Children's Fairyland in Oakland! This is the super fun event at Fairyland we were talking about:

… and that's the piece I made for it! 10″x10″ wood panel, complete with chunky gold glitter paint because when you make something for Fairyland, YOU ADD GLITTER. If you can go to this party, GO! Artists making art in front of your eyes that then sells for $40/piece? Yeah, GO!
And finally, you thought her work was magic… wait until you see her studio:
Ah-mazing! I wonder if any gnomes or fairies share that crazy-cozy space with her!?  And yes, that's Shannon's latest self-portrait… kickass kimono included. Thanks so much to Shannon for fitting me into her crazy schedule; thanks to Saatchi Art for supporting the episode; and of course, thank YOU for listening. There will be more art for your ear next weekend.
Other links: