dad
I'm not sure where to start, or why I'm writing this here. I just have to, so I hope you'll indulge me.
My dad died very suddenly, early Friday morning. He was in Jamaica, for the 8th year in a row, to run at the Reggae Marathon with a group of his friends. They refer to themselves as "The Four Amigos", and this is their annual running trip. The race was set for Sunday morning, but they always go a few days early to get used to the heat … translation: to hang out, laugh, run on the beach, and drink Red Stripe beer. On Friday morning my dad had gone for a run on the beach with one of the other amigos, and then headed back to his room for a quick shower before breakfast… but he never arrived at breakfast. Even as I write this I can't believe it's real.
He and my mom had just come home from a month long trip to India and Nepal… their 50th wedding anniversary trip. I was nervous about him jetting off to Jamaica right after such a big trip, but I learned a long time ago that, when it comes to running, none of us could ever convince my dad not to race! He has done 29 full marathons and at least 60 half marathons. I'm proud to say I've run several races with my dad over the years (and finally beat him for the first time about 3 years ago… I had to wait for him to turn 70 before I even had a chance).
If you listen to my podcast, or have ever heard me speak, I talk about my parents a lot. My dad is a PhD scientist, and my mom is an artist… and I suppose I am a fine blend of both. When I was in first year university, as a marine biology major (yep, true story), it was my dad that called me half way through the year and encouraged me to switch into fine art. He said "You've been an artist since the day you were born – it's who you are – it's what you have to do." I mentioned he has a PhD, right? And he told me to SWITCH INTO ART?!
One of my favorite childhood memories, was when I drew this masterpiece, titled "Big Bird, Little Tree":
I was three. My dad came by, looked over my shoulder and said, "Well, we have to put that in a frame." He always framed all of my mom's paintings, and for my bird in the tree he used all of the fancy tools he used for her work… a mat, real glass, and an amazing gold frame (it's hanging in my studio right now). I remember feeling so proud. I felt like a REAL artist, just like my mom.
Through my whole life, Dad was the one to give me practical advice … yep, scientist. He taught me the thrills of list-making and binder dividers. He taught me to prioritize things that mattered to me, and then to put my head down and go get them. He had great, memorable sayings too… anytime I said anything about being lucky when it came to my achievements, Dad would say: "Yep, it's a funny thing – the harder you work, the luckier you get."  I don't say I'm lucky anymore, now I say "I work my ass off." Which I do, and I'm so glad my dad knows that.
Last week I was speaking in Vancouver, and my parents were in the front row. While I was signing books, my dad quickly cut the line to say goodbye. He wasn't a very effusive guy, but for some reason on this particular night, he took the time to tell me how proud he was. He said, "Not only are you a wonderful speaker, it's quite something to watch you inspire and move an entire room full of people… I couldn't be more proud of you." He died a week later.
I love you so much, Dad. I can feel you watching over us already. I know everyone has their time to go, and I'm glad that yours was in a place you love, surrounded by good friends, after a run on the beach. But it was too soon. We had more races to run.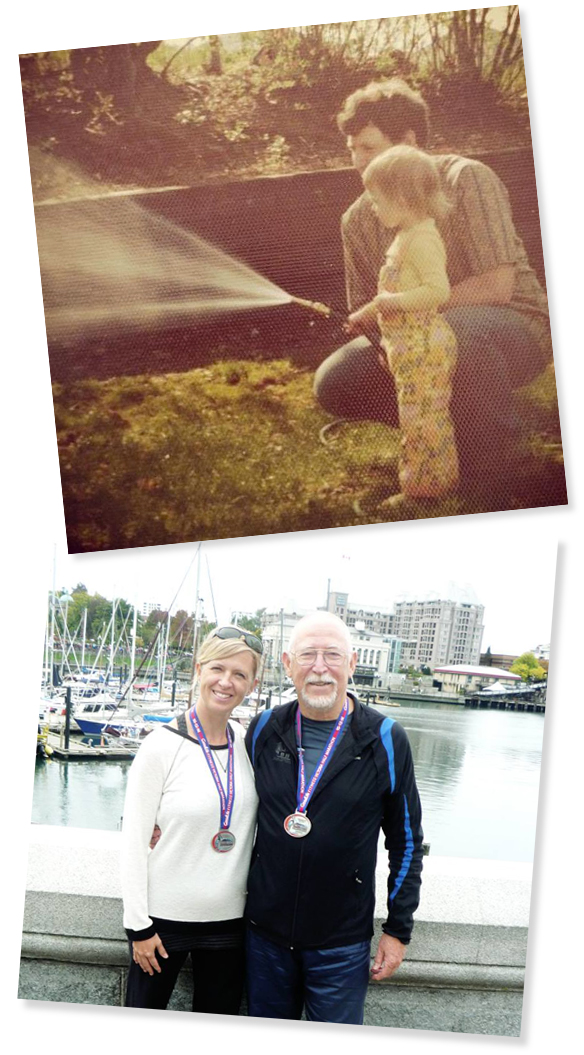 I'll be taking a bit of time off from posts and the podcast to be with my family. ~ Danielle xo
ps. My dad had a blog too. I set it up for him on Father's Day a bunch of years ago. It's called Running In the Zone.