"getting on with it"
You guys, I cannot wait for you to hear today's episode of ART FOR YOUR EAR! London based Estonian photographer, Sirli Raitma is on the podcast. Sirli spends her time dressing her muse in bizarre fashion, and decorating said muse with fabulous hair and makeup. ps. Her muse is her mother, Eha. Gah! I love this ongoing series so much, but even more, I love how this mother/daughter project came to be. Ooh, and wait till you find out how Sirli became a photographer. This story is a family affair filled to the brim with inspiration. Look and listen right up there under Eha listening to, I assume my podcast (!?), or subscribe on Apple Podcasts.
Let's kick things off in the wilderness… the first place Sirli ventured with her camera:

Deer, fog, foliage, and oh… look at that, an Eha in the wild! Perfect segue into the beginning of the "EHA" series, when the photographs were black and white:
Ah, gorgeous… but clearly, she's begging to be shot in COLOR! Okay, this post could have had a gazillion photos in it, so here are just a few of my faves that feature the hot pink and bright orange eye shadow we mentioned:
Yes, yes, a thousand times YES! Speaking of which:
Ha! Those photographs are in order of my fave, Sirli's fave, and the internet's fave. And look at this fabulous mother and daughter at an art show featuring their creations! Living the dream, ladies.
Oh, and in case you're wondering if Eha still has legs…
… she does, and they're fantastic!
Now, I know all of this attention hasn't gone to Eha's head (or Sirli's for that matter), but I just had to include a few 'soaking it in' moments:
Wooohoooo! I love all of this more than I can even begin to put into words.
Oh, and then I suddenly remembered how I found Sirli's work in the first place! I follow an insanely talented artist named Lavely Miller, and she did this painting of Eha:

Yep, the painting took my breath away, and then I started down the rabbit hole that lead me directly to Sirli's portfolio.
And finally, a couple of casual shots of this creative, hilarious, loving duo: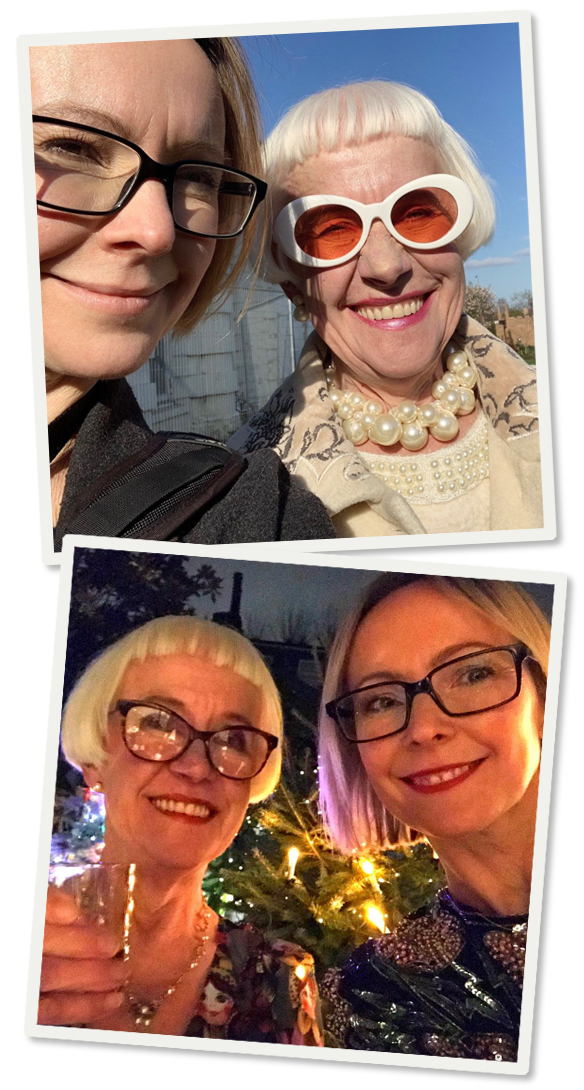 Cheers, indeed! You two are so inspiring… may this project go on for years and years to come! Thanks so much to Sirli for sharing her story with us; thanks to Storyblocks for supporting yet another episode; and of course, thank YOU for listening. There will be a new episode of ART FOR YOUR EAR in two weeks.
Other links: