"artsy AF"
Yep, that image pretty much sums it up! Large-scale, hyperreal paintings on custom-cut panel, and a pug named Mochi. I love this episode so much. Barcelona born, New York based artist Gemma Gene is on the podcast today, and she is not only super talented, she's also hilarious! You can listen right up there under Gemma & Mochi, or download ART FOR YOUR EAR wherever you get your podcasts.
First, a bunch of perfectly painted metallic balloons, Mochi for scale, and a couple of gigantic bows on cut panel:

Gasp! Gorgeous! ps. I threw in that last image as proof that these are actually paintings. 
Next, a few very, very special gems:
Awww, that little gem right in the middle is 'Yellow Gem', Gemma's baby girl! And yes, her name really is Yellow (not Maria) which might be the coolest thing I've ever heard. Oh, and that action shot is what Gemma and I were talking about re: dropping off a commission to Voltz Clarke Gallery… as the paint dried!
Okay, now we're going back in time a bit to where it all began… objects wrapped in aluminum foil, because, who doesn't love an insane challenge:

… and clearly a painted foil lobster is the gateway to foil lobster sculptures!
Next [drumroll please]… iiiiiiit's MOCHI!
Gah! Too much cuteness… I can't handle it! Also, can you see why she must be absolutely exhausted!? Yeah, me too.
Of course, a little plug for both of Mochi's books is a must: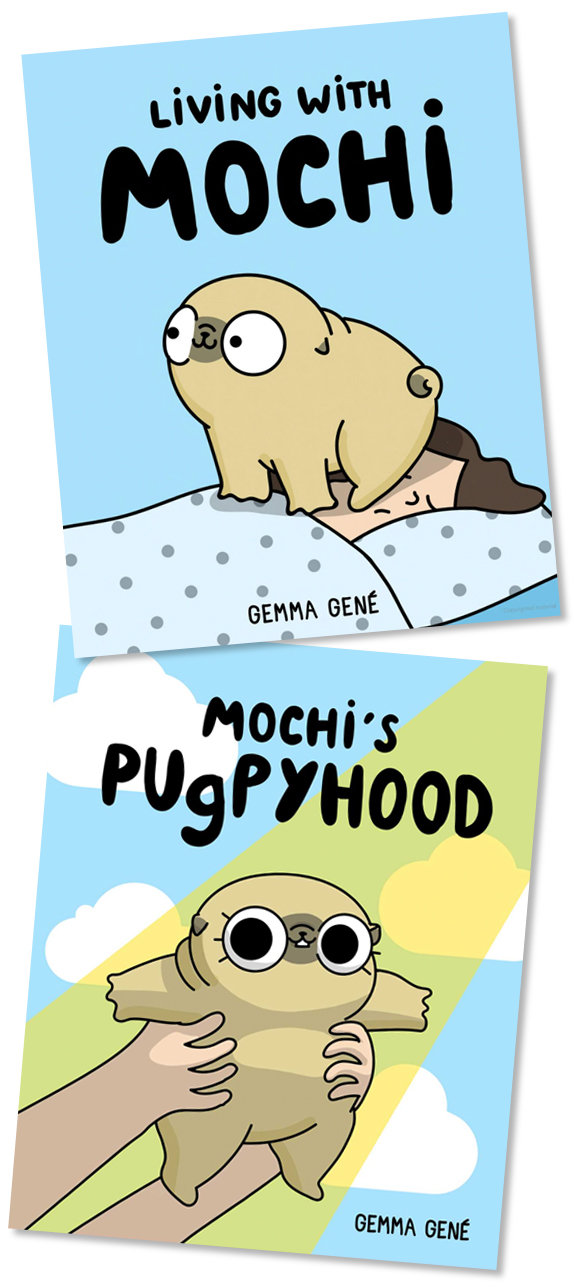 Hilarious! "Living with Mochi" is available right this second, and "Pugpyhood" can be pre-ordered.
And finally, I obviously had to include this beauty… Gemma, Mochi and the Twinchis in matching iridescent outfits: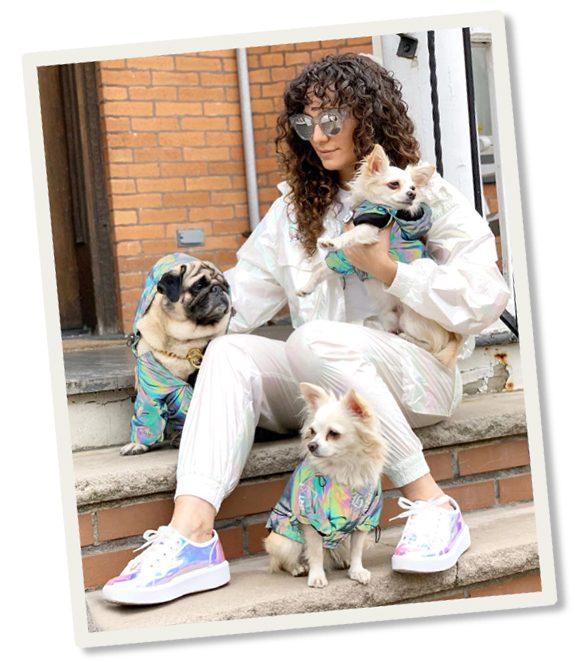 Ah-mazing! Also amazing… everything about this conversation! Thank you so much to Gemma for taking the time to share her hilarious stories, and of course, thank YOU for listening. I'll be back with a brand new episode of ART FOR YOUR EAR  in two weeks.
Other links: