CREATIVE BLOCK (my book!)
I don't even know what to write… this has been hush-hush for so long… but finally, I can tell you all of the ins & outs of my book that will be released by Chronicle Books in just a few short months (but you can preorder right now if you wanna)! Let's start with the title. It's called CREATIVE BLOCK, and here's what it looks like (an instagram taken with my very old phone, but you get the idea):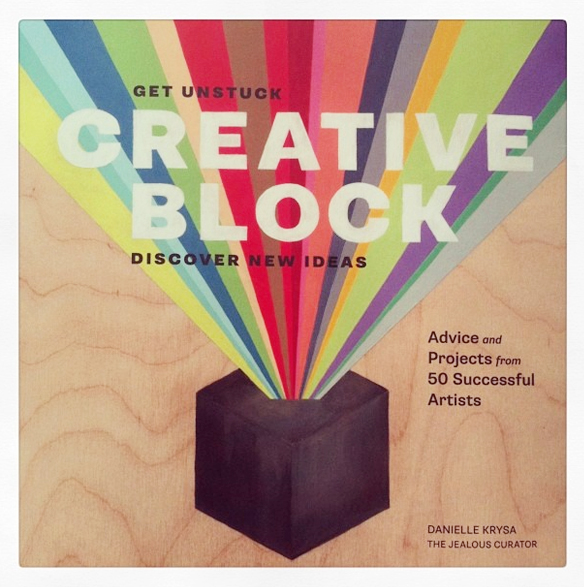 *The cover was designed by Dinah Fried at Chronicle, and then painted by Toronto based artist Amanda Happé. I love it so much and am proud to have had such talented people working on this project.
SO, WHAT'S IT ALL ABOUT:
I came up with the idea for CREATIVE BLOCK for myself, just as much as for all of you. I wanted to make something beautiful – a contemporary art book filled not only with inspiring images, but also inspiring words, advice, and tips to help amateurs and professionals alike, find their way through those days when the ideas just won't come. Because everyone who dabbles in something creative feels that way at some point – right? Right. I wanted to write this book to show you that if you're feeling this way you're not alone either. I've written hundreds and hundreds and hundreds of posts about successful, working artists who seem to have this whole "creative thing" figured out. But surely they have blocks from time to time? How do they get through them? Where do they find fresh inspiration? How do they handle negative feedback? Does it stop them in their tracks? Now, these full time artists don't have the luxury of not finishing, or giving up on a project – not when they've got a gallery or art buyer waiting on them! So how do they push themselves through those moments when the ideas just aren't there? Or when the ideas are there, but their hands or materials will not cooperate.
THE ARTISTS:
Finally! I'm thrilled to reveal the list of 50 amazingly open, honest, witty, thoughtful, funny, talented artists that allowed me to interview them about their own creative blocks, insecurities, and inner-critics. Not only did they give us a candid view into their creative process, but each of them wrote a "creative unblock exercise" to help shake us out of our own blocks. Amazing? YES!
Gah! Almost 300 pages of stunning contemporary artwork, insightful advice, and creative-unblocking tips. It's soooo good, all thanks to that amazing list of people who have been such a huge inspiration to me. I'll hope, actually I know, they'll inspire you too!
WHEN & WHERE:
The book will be on shelves, all over the world, February 18th 2014, but you can pre-order on Amazon.com right now if you want to… no pressure… well, maybe a tiny bit of pressure! THANK YOU!