textiles, treasures, and a new tribe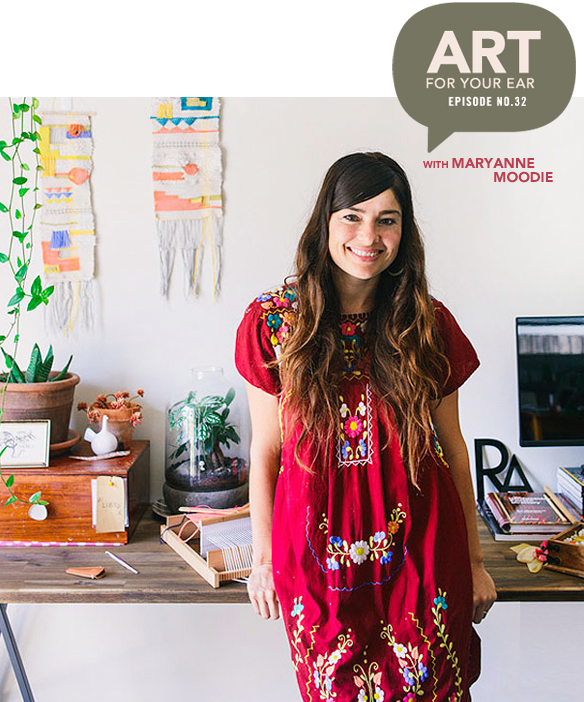 Yes! I'm back after two very relaxing weeks by the fire, with snow falling outside. But, I didn't sit around doing nothing, oh no… instead of eating chocolate in my jammies, I hopped on Skype and called Maryanne Moodie  – an Australian artist, who now lives in Brooklyn. Ok, I may have been wearing jammies and eating chocolate when I called her. I have been obsessed with her weaving work for ages, and now I'm even more impressed after hearing her totally inspiring self-taught story. And ps., now I want to be a weaver. You can listen to our conversation right up there, under Maryanne in her studio, or you can subscribe on iTunes. First up, a whole bunch of her stunning, vintage-inspired, colorful weavings:
Gasp! So gorgeous. Doesn't that last shot (from her amazing instagram feed) make you want to try weaving immediately? Yeah, me too. Luckily for us she sells starter kits, and teaches workshops all over the world! (ps. you can get the kits and buy spots in the classes via her Etsy shop. You can sign up for her enewsletter if you want to find out when/where the workshops are happening. Scroll down to the bottom of her home page and sign up there). I love that she does these classes! So fantastic, and yet another part of her amazing story (you have to listen if you're not listening already… go right now!). Here are some of her kits and workshops in action:
So fun! That last shot is in her Brooklyn studio where she works and teaches. Those windows are killing me. Speaking of which, this is the feather piece I mentioned: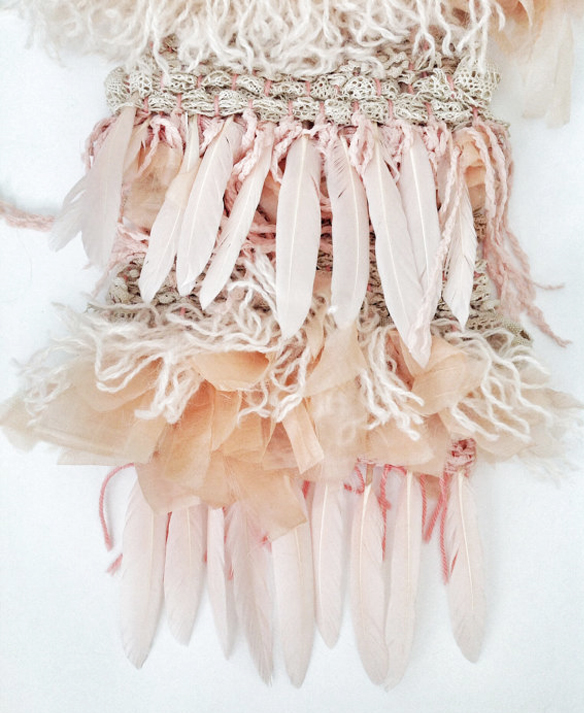 Beautiful! So, after procrastinating for almost a year, I finally warped up the loom (fancy expert weaver talk… I think) that Maryanne sent me last spring. I bought some yarn at my local thrift shop, and threw in some hot pink embroidery thread. Here's where I am so far:
A grey rectangle! Oh yes, it's getting serious in here. So, what do you think? Are you ready to join the tribe…
Me too! I'm so happy that I got a chance to talk to Maryanne. She is beyond lovely, so generous with her insider weaver information, and clearly very talented. Thank you for saying yes, Maryanne! Thanks also to Saatchi Art for supporting the episode and, of course, to you for stopping by to look/listen. There will be more art for your ear next weekend!