"a gift"
Oh, yes! Greece-born, California-based artist Eugenia Loli is on the podcast! I have adored her work for so long and now that I know her story, I'm even more impressed. She went to school for computer science and worked in tech, specializing in backend databases, for years… ah, just like so many other artists… or not. She is completely self-taught and didn't even start making art until 2011. WHAT!? I had no idea. I also had no idea what led to this major life change, although I had read here and there that an illness was involved. Well, Eugenia and I are covering that and so much more. Have a listen right under "Rising Mountain", or you can subscribe on iTunes.
First, a few of Eugenia's collages that I'm sure you'll recognize:

Yes, yes, yes I love them all. And ok, I've written about all of them too. One of the things Eugenia often features in her collages … outer space. I loved her explanation for why and so, of course, I've included a few of my favorites here:
That mouth. LOVE.
Now, Eugenia mentioned this piece a couple of times. It's an important one if you want to understand this artist. "Three Minutes to Nirvana":
And as she mentioned, she has an in-depth description of this piece so that you can understand where she's coming from in one fell swoop:
"The structure represents all that we can comprehend while in our human form. It's also what keeps us within boundaries, limiting our existence, experience and understanding. 

The bottom level is about developing, learning, and trying out various routes. In the process, and among progress, there's also war and misery (as evident by the fire in the background). The cube in the field is the teaser of the ultimate prize, placed in by the people on the top level (the "Ascended").

The second level is about expanding our horizons further, making the leap towards an enlightened state. Notice the woman in black, ready to make the leap. The man in the staircase, calls her, trying to keep her back, but it's too late. She has superseded him. She is intrigued by the possibilities. The man also signifies the various forces that will try to keep humanity back on its journey. Notice that the observable universe is also within the boundaries of the structure.

Two humans are attempting to reach the third level. One is climbing the old fashioned way, and the other one is using (transhuman) technology to get there — both choices are acceptable. At the end of their journey, they won't be "humans" anymore anyway.
Notice the trophy award in the middle of the third level, right below the angels painting. These two people think that this is the ultimate prize. But that's just a trap. The third level is the most difficult level towards reaching ascendance, because humans will have to leave behind all their vices, delusions, and personal limitations. Most never manage to do that. Their only enemy in this level is themselves. Notice the human skull, hidden by the flying spaghetti monster-like flower.

At the very top, the Ascended people are waiting for more people to make it to the top. In the whole artwork, they are the only element depicted outside of the structure, able to see the bigger picture. They're beyond time and space. Notice the planet above their heads, alluding that there may be more levels. Knowledge and wisdom have no limits. There's always something more to explore, know and live." ~ Eugenia Loli
Beautiful and surreal!
That piece is one of her most important / favorite personal pieces. I asked her to send me a link to her other personal favorites, the more abstract pieces that don't seem to sell as well. What? That is crazy to me… just look at these beauties:
That hair, oh my goodness, I love that hair so much.
And finally, here is Eugenia looking particularly cool… drop some outer space into those circular glasses and she'd have a 'Eugenia Loli artwork' on her hands. The towel and tote photo is from her Instagram feed … her collages turned into objects, and used at the beach on her last trip home to Greece: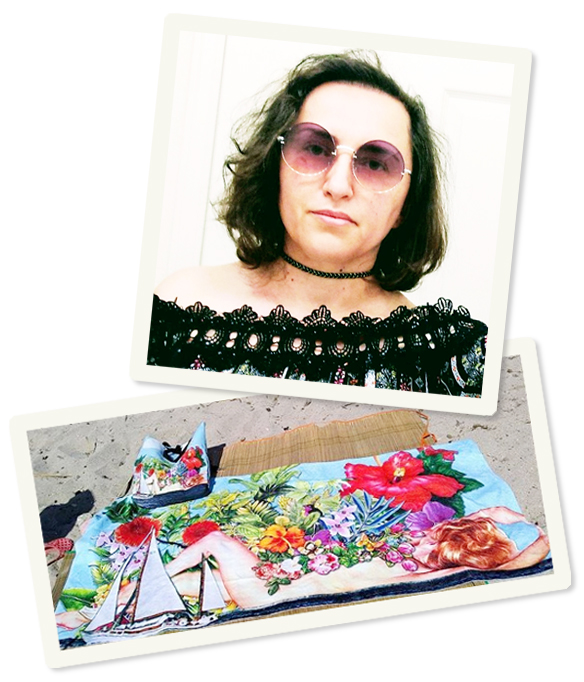 So fun! Thanks to Eugenia for telling me all of her stories … so insightful, honest, and genuine; thanks to Saatchi Art for supporting the episode; and thank you for listening. There will be more art for your ear next weekend.
Other links: