"there's no place like home"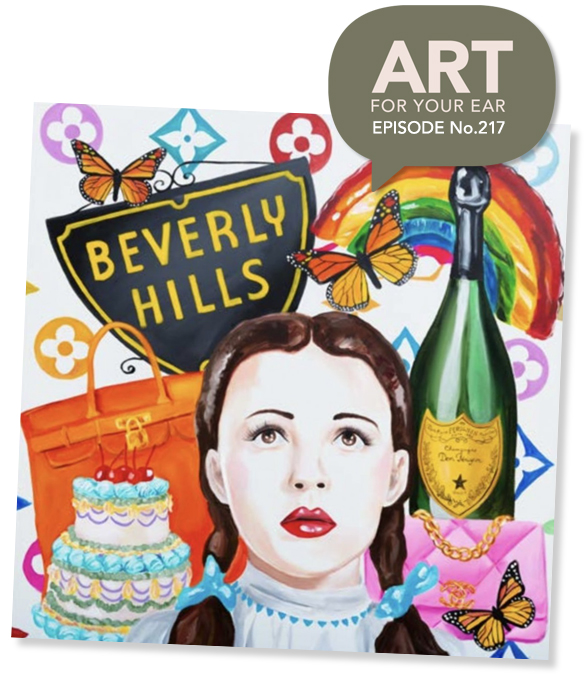 I kicked off 2021 with an Ashley Longshore episode, and I'm gonna wrap the year with one, too! Yep Ashley is back on the podcast today. We're talking about JOY with a capital J … finding it in the little things, bringing it into our artwork, and not letting the state of the world break us! She also prepped a few questions for ME this time around (and yes, I blushed more than once… she does that to me!). Listen right up there under Dorothy in Beverly Hills, or subscribe to ART FOR YOUR EAR wherever you download your podcasts. ps. Yes, there is some colorful art — and language — in this episode, so little ears probably shouldn't listen!
First up, paintings from Ashley's time at the Artist-in-Residence at the Peninsula Beverly Hills:

Ahhhh, fabulous still lifes and giant teapots! I didn't realize how big they are… now I love them even more.
Next, a few of my faves from Ashley's "Still Happy" series:
Yep, still happy.
Speaking of happiness, haute couture astronauts in ruby slippers:
Again, I had to show you the scale!
Up next… there really is no place like home, just ask Dorothy:
Gorgeous. I love those rosy cheeks. ps. That's Buttercup relaxing on the studio floor. Sweet girl.
From sweet girls to fierce women… here's a peek at Ashley's ongoing portrait series, currently housed at Diane von Furstenberg's flagship store in New York:
… and here they all are in one beautiful book, titled ROAR! Thank you so much to Ashley for bookending my 2021 with her contagious energy. This is the last episode of the year, but I'll be back with a brand new episode at the very beginning of 2022! I'll still be sending out my daily newsletter through all of December, so feel free to subscribe… or gift a subscription to an art-loving friend! (it's only $3/month for artsy content Monday through Saturday).
Thanks so much for listening. Happy holidays to your and yours! Danielle xo
Other links: